ABOUT THE GALLERY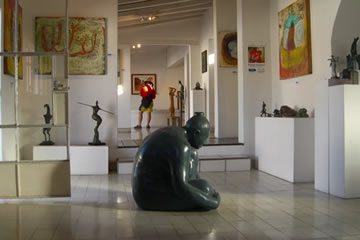 Gary Thompson, the gallery's owner and director, opened the gallery on Nov. 27th, 1987, with a collective exhibition of the works of 27 artists. However, he decided to celebrate the Big Day on November 28th, to coincide with Puerto Vallarta's weekly Wednesday Art Walk.
Galeria Pacifico presents an eclectic blend of sculptures and paintings mostly by Mexican artists as well some foreigners living and working in Mexico.The second oldest gallery in town, has been open for 23 years, and is starting its 24th Season with new and fresh additions such Angel Pahuamba, a new artist with Galeria Pacifico that has been showing his work in San Miguel de Allende, but lives in Morelia, Michoacan. Roberto Vazquez, whose intriguing work, seems to evoke the typical art of Oaxaca. Vallarta's great master, Ramiz Barquet has a large display of sculptures, including the renowned "Nostalgia." and the "Pescador Isidro". The widely talented, Brewster Brockmann with his sculptures and paintings, combines in a sublime way the nearly impossible fusion of naif and contemporary art.  The multifaceted Hugo Barajas, whose work in fused glass have been a breath of fresh air in the local art scene, without forgetting the artistic sensibility of David Leonardo, whose work attracts us by its magnificent color and its characteristic and unique style. Alfredo Langarica, whose work combines the highest painting ability with a multi layered artistic sensibility with absolutely world class sense of humor. The spiritual beauty, eroticism and sensuality reflected in the sculptures of Laura Rubio is exemplified in pieces such as "It takes Two to Tango".The incidence of light on the surfaces of natural environments, the delicate and subtle composition of lights and shadows, present in all environments of nature, is alive and effulgent in the paintings of Cuban artist Lorenzo Ruiz, which capture the eye of the spectator with their brilliance of color and rich composition. On the other hand, the vast majority of the sculptural work by Virginia Aparicio is devoted to female subjects, focusing not only on feminine beauty  but on the unique visual strength of the female torso in its combination of curves and angles.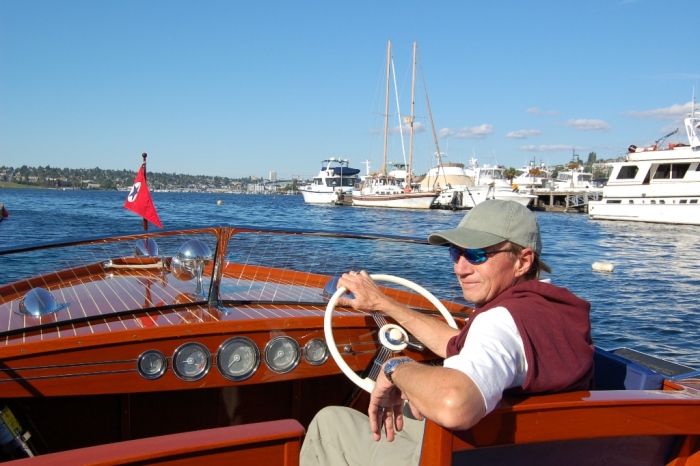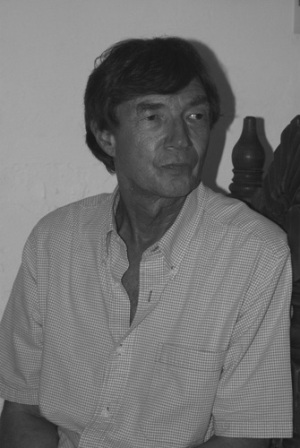 Gary Thompson, propietario de la galería y director, abrió la galería en el 27 de noviembre 1987, con una exposición colectiva de las obras de 27 artistas. Sin embargo, decidió celebrar el día grande el 28 de noviembre, coincidiendo con la semana Miércoles Paseo del Arte de Puerto Vallarta.

Galería Pacífico presenta una mezcla ecléctica de esculturas y pinturas en su mayoría por artistas mexicanos y algunos extranjeros que viven y trabajan en Mexico. La segunda galería más antigua de la ciudad, ha estado abierta durante 27 años, y está comenzando su temporada 26 con nuevas y frescas tales adiciones Ángel Pahuamba, un nuevo artista con Galería Pacífico que ha venido mostrando su trabajo en San Miguel de Allende, pero vive en Morelia, Michoacán. Roberto Vázquez, cuya obra fascinante, parece evocar el arte típico de Oaxaca. El gran maestro de Vallarta, Ramiz Barquet tiene una gran muestra de esculturas, incluyendo la famosa "Nostalgia". y el "Pescador Isidro". El ampliamente talentoso, Brewster Brockmann con sus esculturas y pinturas, combina de manera sublime la fusión casi imposible del naif y el arte contemporáneo. El multifacético Hugo Barajas, cuyo trabajo en vidrio fusionado ha sido una bocanada de aire fresco en la escena artística local, sin olvidar la sensibilidad artística de David Leonardo, cuyo trabajo nos atrae por su magnífico color y su estilo característico y único. Alfredo Langarica, cuya obra combina la capacidad de la pintura más alto con un multi sensibilidad artística en capas con sentido absolutamente de primera clase del humor. La belleza espiritual, el erotismo y la sensualidad se refleja en las esculturas de Laura Rubio se ejemplifica en piezas como "It Takes Two to Tango" .La incidencia de la luz sobre las superficies de los ambientes naturales, la composición delicada y sutil de luces y sombras, presente en todos los ambientes de la naturaleza, está vivo y refulgente en las pinturas del artista cubano Lorenzo Ruiz, que captura el ojo del espectador con su brillantez de color y rica composición. Por otro lado, la gran mayoría de la obra escultórica de Virginia Aparicio se dedica a formas femeninas, centrándose no sólo en la bellez sino en la fuerza visual única del torso femenino en su combinación de curvas y ángulos.